Almost as quickly as she succumbed to the gunshot that ended her life, Kathryn Steinle became the new face of Victims of Illegal Alien Criminals. We have learned, in the intervening days, that her killer has entered the USA
illegally
five separate times, and had just been in prison for his most recent criminal re-entry to the US. The story we know now is one of dereliction of duty and failure of care.
Those responsible for dereliction and failure include the City and County of San Francisco and the Obama administration. Responsibility lies with the City and County because of its
avant garde
rejection of cooperation with the federal government in the enforcement of ICE (Immigrations and Customs Enforcement) detainers. Responsibility lies with the Obama administration (and preceding ones) for allowing local governments to continue to benefit from federal law enforcement assistance and funding while those local governments refuse to assist with detainer and removal of even convicted felon illegal aliens.
Perhaps all that will come of Kathryn Steinle's sad demise is further outrage in broad swaths of the Nation, outrage at a federal government that refuses to enforce borders despite a quiver full of potential enforcement tools, outrage at local governments that take the same
avant garde
approach responding to the problem of crime among illegal aliens as San Francisco has done.
Or, perhaps, Steinle's death will bring to fruition in the Congress a comprehensive response to the harms that violent illegal aliens cause citizens. To legislate, Congress must investigate. Yesterday marked an important milestone in that process. The Senate Judiciary Committee heard from the families of several Americans killed by illegal aliens.
You can
watch the entire hearing
. Witnesses submitted written testimony and links to their submissions are found at the same link. While the Senate also heard from activists and law enforcement officials, today, I think we should pay respects to those whose families were brought to Capitol Hill because their loved ones were the victims of fatal crimes.
Josh Wilkerson
How many times do we hear that terrible complaint that a parent should not have to bury their child? Laura Wilkerson had to bury her son, Joshua.
Josh, according to his mother, was a good, decent, and caring young man. In 2010, he was in his senior year in high school. The last time she saw him alive, they hugged, and exchanged "I love yous."
That day, Joshua did
not
come home. Instead, he died at the hands of an illegal alien. Hermilo Moralez, from Belize, had just recently been kicked out of his mother's home due to his harassment there. He had been in court for that just days before he murdered Josh.
Josh had given Hermilo a ride after school, something he had done a few times before. The ride ended in Josh's death. Here is Josh's mom explaining what happened:
The killer was a black belt in mixed martial arts. He bragged from the stand about how his "killing skills" just took over. We watched as he got off of the stand and stood over the District Attorney so he could show the jury how he strangled Josh.
He said that he first hit Josh in the face, so that he would not be able to fight back. He then kneed him in his stomach. We listened to him say that he was frustrated that Josh still had bloody bubbles coming out of his nose. He picked up a closet rod and beat Josh so severely on the head that the rod broke into 4 pieces. He strangled him over and over. He waited, Joshua died.
Per the Medical Examiner he tortured him. He tied Joshua up like an animal. He cleaned up the scene, put Josh in our truck and went to the store to buy gasoline. He put Josh in a field. He put his school lD next to Josh's body, doused him with the gas and set him on fire. After that the killer went to a friend's house, took a shower, and went to see a movie. He laughed, He had popcorn and a coke.
Laura also read part of the Coroner's Report to the Committee:
This body is received in a grey body bag. A white male with a toe tag that reads Joshua Wilkerson. He is 100 pounds. He has been tied up with braided rope multiple times. 13 rounds of rope from his neck, through the belt loop on the back of his pants, to his hands and feet behind his back. His body is charred from fire. There is significant skin slippage on his buttocks, his abdomen, and on his face. His hands are completely charred. He has many fractures in his face. His throat is crushed. ln his pocket he has 1 piece of gum and a tardy slip.
How does a mother find the strength to go on at all? How does she find the strength to come to Washington, to speak for her dead son?
Josh Wilkerson's mom witnessed the trial and conviction of her son's killer. She knows -- absent unforeseen circumstances -- that he will be locked securely away for a half century. While that knowledge may seem to provide "closure," it is cold comfort to the mother of a lost son.
Dennis McCann
The Judiciary Committee also heard from Brian McCann, who testified about the killing of his brother, Dennis. Brian and his family have been denied the "closure" of seeing the killer of Dennis McCann tried, convicted and confined for his criminal acts. Brian's explanation of the Dennis' 2011 death, as told to the Committee, is quite brief:
Denny was crossing Kedzie Avenue on a marked crosswalk four years ago and was violently struck by a drunk driver who dragged Denny under his car for a block in an attempt to flee before Denny died.
The Chicago Tribune covered Dennis' death at the time. You can read their coverage
here
. Here are the essentials from the Tribune:
Alberto Aceves was driving home from his landscaping job Wednesday evening when he saw a black Dodge Neon in front of him strike a man who was crossing the street in Chicago's bustling Logan Square neighborhood.
"I heard the impact, saw this man go up into the sky and land on the windshield," Aceves, 39, said Friday. "I thought, OK, he hit him, but the driver is going to stop. He might be all right."
But then the driver stepped on the gas, rolling over William "Dennis" McCann, 66, and dragging his body north on Kedzie Avenue, Aceves said. He chased after the hit-and-run driver to try to get a better look at the car's license plate.
"I pull up to the passenger side screaming at him, 'Stop! The guy's under your car!'" Aceves said.
An off-duty Chicago police officer headed home after his shift joined the chase after noticing a pair of sandals in the street and then spotting the body being dragged underneath the Neon, Assistant State's Attorney Allison Sise said.
With McCann's body still lodged under the car, Chavez stopped about a block north and ran into an alley. As Aceves gave chase on foot, the officer ran past him with his gun drawn, shouting, "Stop or I'll shoot!" according to Aceves.
"He (Chavez) turned around and me and the officer just took him down to the ground," Aceves said.
The driver was both significantly impaired when he killed McCann, and a repeat drunk driving offender:
The driver, Saul Chavez, 35, was ordered held Friday on $250,000 bond on charges of aggravated DUI involving a death. Prosecutors said Chavez had a blood-alcohol content of 0.29 percent, or nearly four times the legal limit of 0.08 percent. He had no license and had completed a 2-year probation sentence in February for a 2009 drunken-driving conviction, they said.
In his Congressional testimony, Brian McCann explained why he and his family have been denied closure. What he says is not pretty, and it implicates yet another "Sanctuary City," this time Cook County-Chicago, because of their refusal to honor ICE detainers and the decision to adopt such a policy while Dennis McCann's killer was in custody:
[We were] notified by the Chicago Police and the killer was placed into custody and charged with Aggravated DUI causing death.Two days later ICE issued a detainer because the young man was an illegal alien with a prior felony. The family was assured by the Cook County prosecutor that the defendant would not be allowed to post bail and be released. Three months later the Cook County Board passed the ordinance that effectively requires the Sheriff to ignore detainers. During the intervening weeks after Denny's violent death Cook County President Toni Preckwinkle and former mayoral candidate and Commissioner Jesus Garcia pushed for the ordinance and rammed it through on September 7,2011. Two months later the killer made bail and absconded to Mexico.
According to the FBI, Dennis McCann's killer is living in Mexico, and driving there.
McCann's testimony leaves you frustrated. The killer didn't just strike Dennis McCann. He then attempted to flee the scene of the crime, dragging McCann's body. McCann died at the scene from massive internal injury. His brother's killer, a serial drunk driver, was in police custody. ICE had placed a detainer request with law enforcement. And Chicago-Cook County
refused
to honor the ICE detainer, released the killer, allowing him to escape justice entirely.
Deputy Danny Oliver
A crime spree that started in Sacramento set the stage for the compelling testimony of Susan Oliver, the widow of Sacramento Sheriff's Deputy Danny Paul Oliver:
"Danny was walking toward a car to see what the occupants were doing on his beat. Danny prided himself on helping communities and feeling like he was truly making a difference. Danny was a POP officer also known as a Problem Oriented Policing. My husband and father of two never made it to the driver's window on Friday October 24, 2014. At about 10:30 a.m., a man armed with numerous weapons aimed one out of the car from the parking lot of a Motel 6 at Arden and Ethan Way in Sacramento and opened fire, killing my husband, Danny Paul Oliver, with a shot to the forehead as my husband simply asked how the armed man's day was going."
Deputy Oliver was shot and killed by a man subsequently identified as Luis Enrique Monroy-Bracamonte.
Bracamonte had been twice deported from the US and was present illegally when he killed Deputy Oliver
and, later the same day,
Placer County Sheriff's Deputy Michael David Davis, Jr.
If there was any doubt of Bracamonte's responsibility for the murders of Deputies Oliver and Davis, he removed those doubts in a moment of courtroom drama, just after a hearing in his case ended,
when he called out that he had, in fact, killed both officers
.
Susan Oliver opened her sorrow to the Committee and to us. She explained the pain of loss of her husband:
Each day I look for parental back up to child rearing and I feel the loss. Each day my children reach mild stones like a wedding engagement, graduations, and our weekly family brunches, I am reminded that I no longer have my husband. I was married for 25 years to my high school sweet heart and we watched each other grow up.
Let that sit with you.
Picture yourself, with a child out of sorts, or a teen going wayward. Picture yourself turning to your husband, or your wife, but they aren't there. They aren't there because they are dead. And, they are dead because your City, your County, your State and your Nation refused to cooperate together to remove illegal alien criminals from the country, knowing that those very illegal alien criminals are hurting, maiming, and yes, killing American citizens in our homes, on our streets.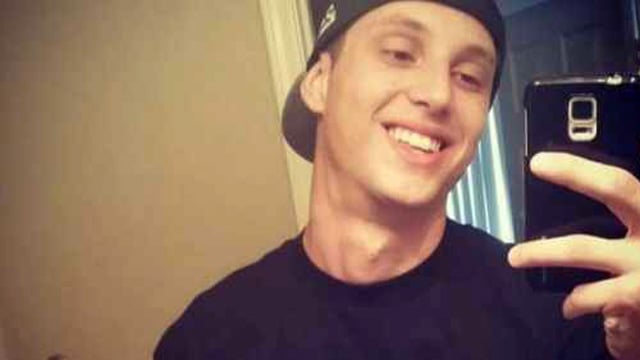 Grant Ronnebeck
In January, 2015, Grant Ronnebeck, 21, was working at a convenience store, QuikTrip, in Mesa, Arizona. Grant had worked at QT for five years. According to family members,
Grant was a bright and happy young man.
He lived an active life, and was planning his future.
Apolinar Altamirano cut that bright life, that anticipated future, short on January 22 of this year. Atlamirano stepped up to the counter at the QuikTrip, placed a container of change on it, and demanded a pack of cigarettes. Grant reached for the change and would have begun counting it, and indicated to Altamirano what he was doing. Altamirano shot Grant in the face, killing him. He then stepped in and grabbed two packs of cigarettes. He was captured following a high speed chase.
Altamirano had been charge just recently for trespassing at the same store, and had another, more serious charge resulting from an incident in which he and two other men held a woman captive and sexually assaulted her. Prosecutors agreed to drop the more serious charges in that case on Altamirano's plea to the lesser offenses. He was on probation at the time he murdered Grant:
Police said Altamirano was removed from the same store for trespassing on Jan. 9.He also was served with an injunction against harassment on Jan. 19 and is a convicted felon, which prohibits him from possessing firearms. Altamirano has a short criminal history. He was arrested in August 2012 and in January 2013, he took a plea deal for second-degree burglary to have theft and kidnapping charges dismissed. He was sentenced to two years of probation.
[Apparently a law prohibiting Altamirano from possessing a weapon did not stop him from using one to kill Grant.]
Grant's uncle's testimony brought additional concerning facts to light, related to the failure of agencies at the federal and state level to work together, and to communicate, and showing how the resulting harms, including Grant's murder and the sexual assault and kidnapping mentioned above would have been prevented if a different framework of relations between agencies governed:
He was sentenced to two years of probation and turned over to the Immigration and Customs Enforcement Agency due to his undocumented status in the United States. He never served any time in custody related to that offense!
ICE, "The Immigration and Customs Enforcement agency" released the now convicted felon Altamirano on a $10,000 bond pending a deportation hearing.
In the two years since then, while awaiting his deportation hearing, Altamirano has had two orders of protection filed against him, including one from a woman who claimed he threatened to kill her, and pointed a gun at her boyfriend.
ICE was reportedly notified of the protection orders by a Mesa Superior Court judge.
Altamirano was still allowed to remain free in our Country.
So an armed rapist, an illegal alien that was allowed to plead to a lesser offense of ARMED BURGLARY, wandered the land, with the allowance of ICE, and then unleashed the nightmarish havoc that Grant's family still lives within today.
Kathryn Steinle
The Judiciary Committee heard from Jim Steinle, the father of Kathryn Steinle, recently murdered in San Francisco. Jim's description of the moment his daughter's life ended is heart-rending:
[W]e were walking arm in arm on Pier 14 In San Francisco, enjoying a wonderful day together. Suddenly a shot rang out, Kate fell, and looked at me and said "Help me, Dad."
Those are the last words I will ever hear from my daughter.
"Help me, Dad."
Consider what it must be like, night after night, to contemplate those words. To hear them in your heart, your mind. To see the fire that, by all accounts burned with a warming glow for everyone, expire so suddenly, and so unexpectedly, and so unreasonably. Place yourself in Jim's position. Waking in the night, hearing your daughter crying out, "Help me, Dad."
Of course, we know now that Kate's killer, Francisco Sanchez had seven felony convictions prior to the shooting on Pier 14 at the Embarcadero. We know that he was five times deported from the country, and that, in fact, his most recent re-entry to the country resulted in his incarceration for illegal entry.
We know that Kate died from the bullet of a gun belonging to a federal agent of the Bureau of Land Management [and this administration wants to take Americans' guns while unable to account for its own]. We know that Sanchez should have been deported, and would have, if the City and County of San Francisco did not dabble in the
avant garde
"sanctuary city" movement. We know that ICE was fully apprised of the refusal of law enforcement in San Francisco to honor its deportation detainers
yet
ICE had Sanchez transported to San Francisco when he was about to complete his federal sentence so that San Francisco could act on a long-standing drug warrant from the 1990s.
We know that a day after San Francisco took custody of Sanchez, it dropped that stale drug charge, and within two weeks he was released to the streets. Streets he wandered because he knew he was "safe" in the Sanctuary City. Streets he wandered until he found a gun and took a life.
****
The Committee did hear from other witnesses, including the Directors of ICE and the US Citizenship and Immigration Service, as well as representatives from the nonprofit community. These voices might have been appropriate in another setting. Candidly, in the company of family statements of such sorrow and wreckage, in which they were given, they were entirely out of place. In fact, ICE Director Sarah Saldana's statement was particular out of tune. She began by expressing a truism that need not have been said:
The men and women of ICE, me included, have families and children of our own and cannot help but empathize with those in search of a better life.
On the occasion of her testimony and remarks, remarks that passed briefly only on the death of Kathryn Steinle and made no mention of the deaths of Josh Wilkerson, Dennis McCann, Deputy Danny Oliver, or Grant Ronnebeck at all, her ability to empathize with those who yearn to live in America, some of whom so crave that life that they break our laws regarding admission to the country has never been in doubt. What we do doubt, and the doubt her remarks did not resolve, was whether she could empathize with the Steinles, the Wilkersons, the McCanns, the Olivers, and the Ronnebecks.